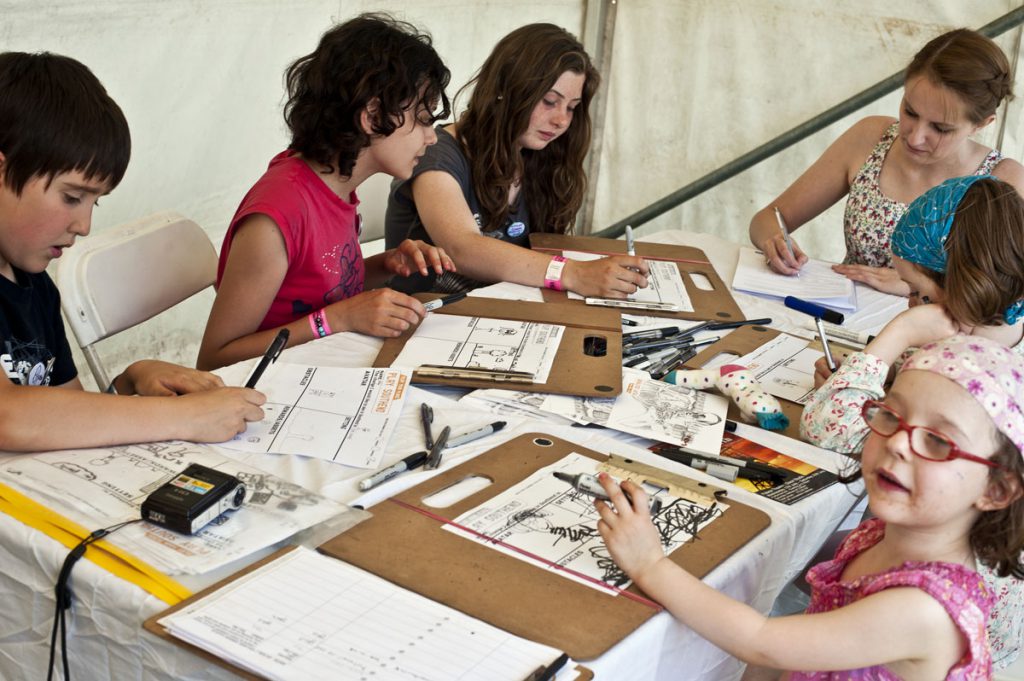 Video
[play your place]
Video game public art platform, software, video documentation
dimensions variable
2014
[play your place] is a series of ongoing relational artworks in which artists Mary Flanagan and Ruth Catlow, as LOCALPLAY, use drawing and play as a way to catalyze and translate local, imaginative visions of place into games that not only communicate community values but contribute to real world urban planning.
People create their own game level, by making a drawing of place in the town. Then they think about how it could be changed for the better. They devise their own rules, drawing obstacles and rewards; building and sharing game level after level for an epic play session.
Planners say that the most interesting challenge of public consultation and deliberation about the future of a place, is to encourage people to think beyond their own individual needs/wants to the common good. [play your place] platform games draw on open participatory techniques (used by artists and engineers) to develop a collective vision of place created by its communities that can then be entered and played by people all over the world. The open source game framework is published on git hub to be shared with other community based art projects. [play your place] combines two strategies for "forming the world" that connect particularly with young people: drawing and gaming.
This project has developed out of conversations with people at a local level including those working with planning and regeneration and formed the foundation for an artists' residency for Ruth Catlow (UK) and Mary Flanagan (USA) and author Rachel Lichtenstein (UK) hosted by Metal in 2010. We want the game to reveal what people value in their communities especially when they are asked to think about the future. Planners also tell us that their work is seen by others as dull and bureaucratic. At the same time it is often hard for people to know where the important decisions are made that effect the places we live. We think this project could inform long term civic and urban planning.
Beginning in the seaside resort town of Southend at the mouth of the Thames River Estuary, LOCALPLAY engages thousands of residents to participate in drawing, sound development, and digital game making using custom open source software developed exclusively for the project to make participation easy and valuable.
In 2014 the work was launched as Play Your Place: South Westminster at the Tate Britain's British Folk Art exhibit. A very interesting video from players is linked on that site, and available here.
A Place as a Platform Game
The game takes the familiar platform game format of Little Big Planet or the older classic arcade Donkey Kong and can be played on-line on the web, on mobile phones, in settings through schools and homes, as well as played publicly in areas in town equipped for large scale video spectacle.
Players take on challenges as they would in a typical platform game such as obstacles, leaps, drops, prizes and enemies. To play, they must run, jump and dodge objects and enemies. Crucially, every element in in the game- the setting, characters, and challenges – are entirely created by community members. The game continues to be available to be played on-line or on mobile phone. Players play over time and the world grows through the addition of endless drawings.
Gaming and drawing activities are to devised by an artistic team including individuals from local community groups. We will develop a kit and a program of workshops to develop game level themes and to set drawing challenges to elicit cool and exquisite drawings-by-hand from children and adults. We hope that the familiar game format and well designed resources enthuse people to engage with issues that effect their immediate environment such as climate change, regeneration, or any other social developments that can be depicted in this format.
Exhibitions
Solo Exhibitions
Play Your Place: Play South Westminster (Public Art Video Game in collaboration with Ruth Catlow as Local Play UK), British Folk Art Exhibition, Tate Britain, July 2014
Group Exhibitions
Play the Web We Want (Catlow) Southbank Centre, UK, November 29-30 2014
Play Your Place: Play Southend, METAL Village Green Festival, UK, July 2013 (Public Art Video Game in collaboration with Ruth Catlow as Local Play UK)