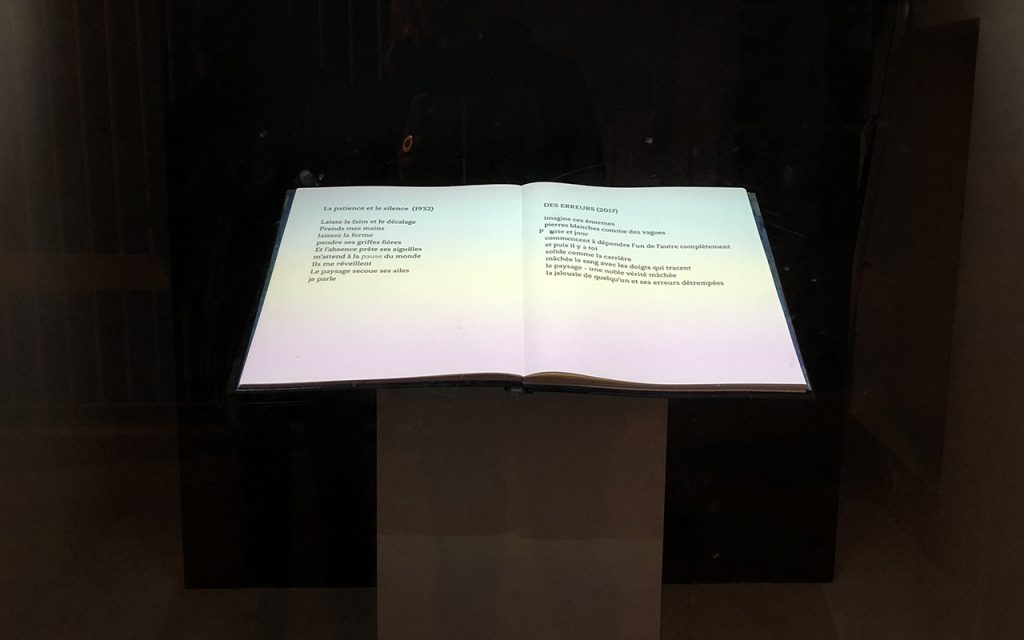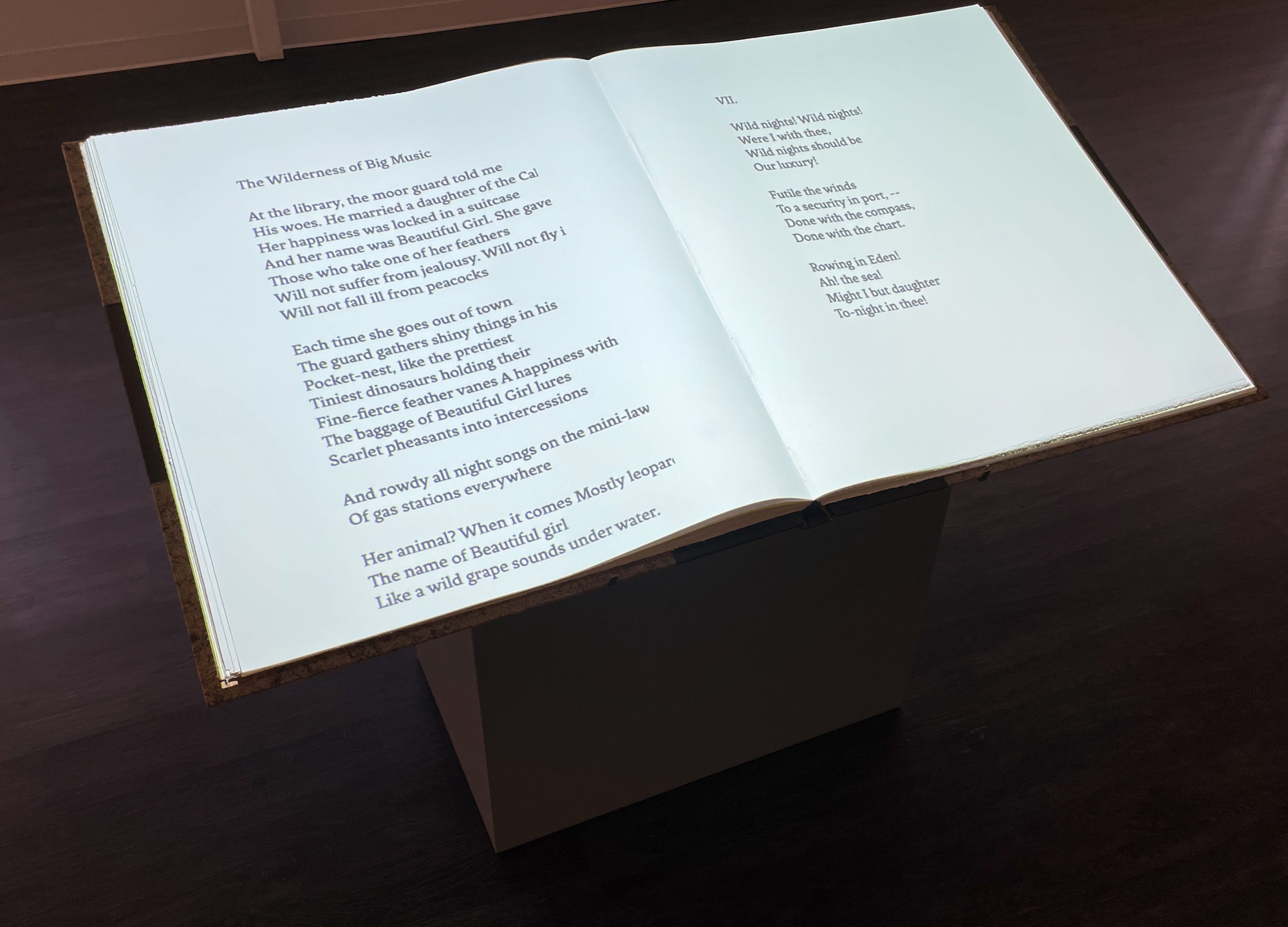 Video
[the mirror book] series
Custom Books (leather, paper), projection, software, writing | livre sur measure, projection, logiciel, écriture
Sizes: 44″ x 28″, 9″ x 11″, 28.5″ x 33″, 55″ x 30.89″, variable

In [the mirror book], the texts of two poets are combined in a computational collaboration. Nouns, verbs, adjectives slowly move from one author's poems to the other, creating new poems. This process is projected onto a blank book. The poems exchange words in time, morphing and changing the poems in their meaning by the shifts in language. As I am a writer, I often use my own poetry in iterations of [the mirror book] and virtually collaborate with dead writers.
At its premier exhibition, [the mirror book]'s first book in the series, "Dora 1," featured the poems of surrealist artist and Paris/Ménerbes resident Dora Maar. In the documentation, you can find Maar's poems on the left. They merge into the poems of the artist (right) using a computer program developed by the artist. Flanagan calls the work a 'computational collaboration' with poets long gone, and in this way she can collaborate with the late Dora Maar. In the second book, "Emily 1," premiering at Nancy Littlejohn Fine Art, Flanagan collaborates with classic poems from Emily Dickinson.
---
Dans cette ouvre, la poésie de l'artiste surréaliste et résidente de Paris/Ménerbes Dora Maar (à gauche) se fond dans celle de Mary Flanagan (à droite) en utilisant un programme informatique développé par l'artiste. Des paires de poèmes se fondent l'une dans l'autre, changeant radicalement la voix et la signification de chaque poème. Flanagan appelle le travail une «collaboration numerique» avec Dora Maar. Dans le deuxième livre, "Emily 1", présenté en première à Nancy Littlejohn Fine Art, Flanagan collabore avec des classiques d'Emily Dickinson.
Exhibitions
"[mirror book: Dora 1]", LAST, La Maison Dora Maar, Ménerbes France, 28 October 2022 – 31 March 2023
"[mirror book: Emily 1]", Hope is a thing with feathers, solo exhibition at Nancy Littlejohn Fine Art, Houston TX 13 May -3 July 2022. Exhibition Catalog
"[mirror book: Dora 1]", Un lieu Une oeuvre galerie, Ménerbes France, 2018
Additional Credits
Gareth Foote, Sage Solbeck, Kristin Walker, Danielle Taylor, Paula Holwerda, Gwen Strauss, Katie Bogan, Oliver Akins