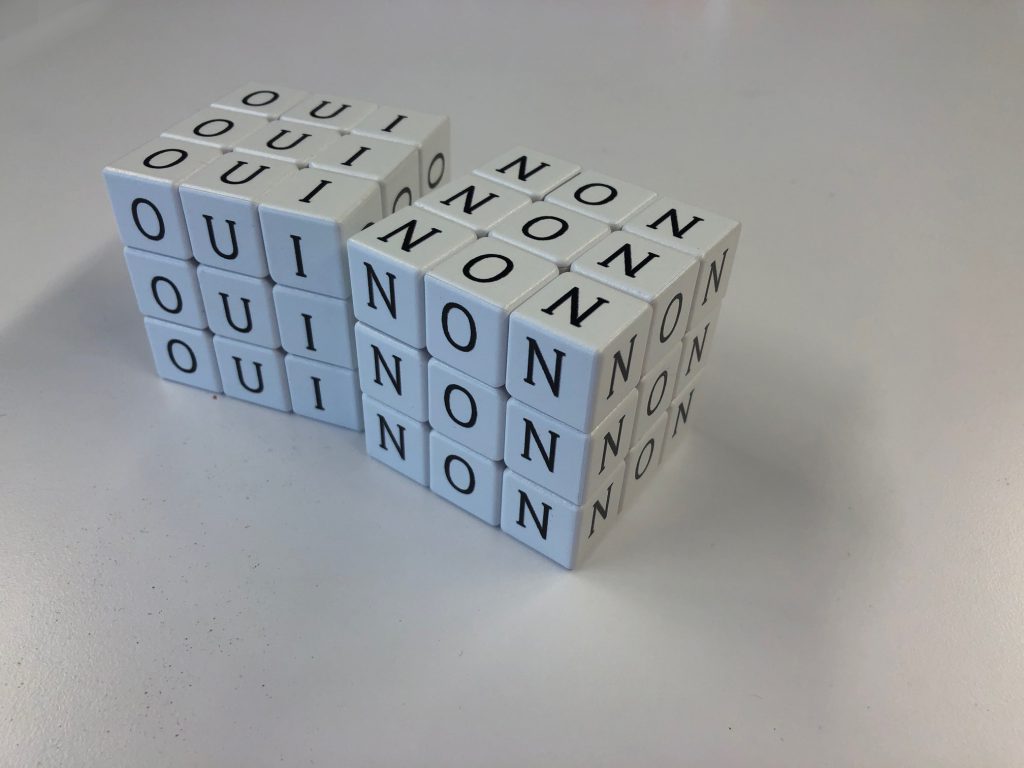 [wordboxes] – Decomposition of Yes | Decomposition of No | Three Letter Words
Limited edition series | série en édition limitée
2.25″ x 2.25″
57mm x 57mm
2019
Working in dialogue with notions of play from Fluxus to OuLiPo, these functioning puzzles deconstruct and reconstruct language, in both French and English.
Everyone knows this Cube Puzzle is an icon of popular culture of the 1980s and that the toy continues to be popular around the world. I reinvent the puzzle itself as a game of form and language. The game generates the 43 billion possible combinations of the work, but what brings us the "resolution"? We build our own labyrinths of language, and sometimes there is no meaningful exit from these possible worlds created under constraint.
In this spirit I have created a collection of language cubes called [wordboxes]. In an example from the series, Decomposition of Yes, the simplest of words—yes—can easily become mutated, unfamiliar, and transformed. For Decomposition of No, the same disintegration occurs.
I am interested in the gap between the systems of people and the evolution of the embodied experience, especially the language and its frequent accidents. In this collection, I work in dialogue with notions from Fluxus and OuLiPo methods in order to concretize new playful language artifacts.
---
[wordboxes] – Décomposition du Oui | Décomposition du Non | Mots des trois lettres
Tout le monde sait que le Cube Puzzle est une icône de la culture populaire des années 1980 et que le jouet continue d'être populaire dans le monde entier. Je réinvente le puzzle meme en tant que jeu de forme et de langage. Le jeu génère les 43 milliards de combinaisons possibles du travail, mais que nous apporte la "résolution"? Nous construisons nos propres labyrinthes de langage et, parfois, il n'ya aucune sortie significative de ces mondes possibles créés sous contrainte.
Dans cet esprit, j'ai créé une collection de cubes de langage appelée [wordboxes]. Dans un exemple de la série, Décomposition du Oui, les mots les plus simples qui peuvent être facilement muté, et non de venir inconnus et transformés.
Je suis intéressé par le fossé qui sépare les systèmes des personnes et l'évolution de l'expérience incarnée, en particulier la langue et ses accidents fréquents. Dans cet œuvre, je travaille en dialogue avec des notions issues des méthodes Fluxus et OuLiPo afin de concrétiser de nouveaux artefacts de langage ludiques.
Exhibitions
Décomposition du Oui, Numéro 1, 2, Art Contemporain à La Maison Dora Maar, Ménerbes, France, June 2019