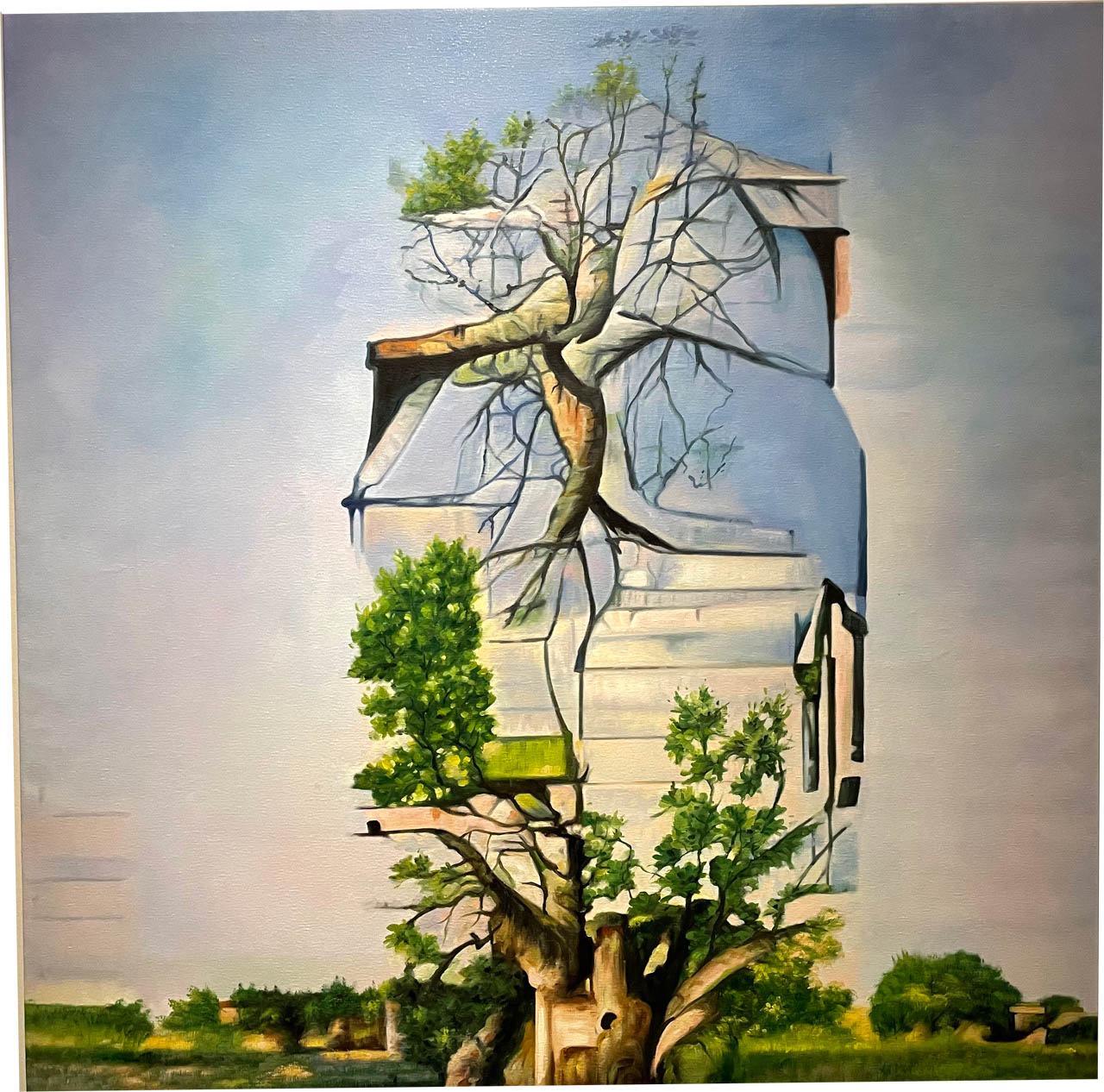 Videos
Mary Flanagan
2022
Time-based media installation comprised of 2 video projectors, 2 screens, and oil paintings on canvas
A Commission by Moody Center for the Arts for Fall 2022 exhibition, Urban Impressions
In this new series, I use machines as collaborators to imagine the future and produce speculative possibilities in the rapidly changing anthropocene. As someone who has always questioned any hard distinction between the natural and the artificial, I seek to move beyond these binaries towards envisioning forms of future interdependence.
Some scholars theorize that the notion of the "technosphere" — a combination of technological, geological and the non-human– is actively shaping the planet as we know it and is a kind of mediating force between the materiality and consciousness of life and non-life on the planet (1). The technosphere is not simply the realm of information technology, however; it takes on physical properties as well, like the biosphere. In this view, technology is integrated, omnipresent — woven into the complex web of systems that link raw material, built environments, agriculture, communication, transport, financial markets, governments, people and culture (2). What better way to collaborate across these divides than to collude with a key product of the technosphere to understand and mediate new knowledge and aesthetic experience?
For Urban Impressions, I used VQGAN + CLIP (Vector Quantized Generative Adversarial Network and Contrastive Language–Image Pre-training) and other AI systems to render unique images of novel architectures related to city centers and trees. I am fascinated by the practice of ancient trees being used as landmarks to urban centers in the middle ages. I spends some of my time in Europe, returning to an ancient village where a stately tree called "The Oak of 1,000 Joys" stood for nearly a millennium. Today, we often see particular human-made architectures in city centers as landmarks marking the sky above. I combine these two different markers of place in this project. In sending prompts to the AI, I begin by describing future scenarios about nature, architectures, and cities in English. What would an ancient tree merged into a downtown office tower look like? How might these two forms complement each other and sustain each other? How is the anthropocene facilitating the merging of traditionally separate forms of knowledge, moving away from binary, Cartesian-style categorization? I drew from a pattern language determined by word-to-image keyword associations culled from massive datasets as AI training data. As a tactician interested in the collaborative process of working with code as a form of speculative research practice, I document trajectories, good and bad matches, bizarre sequences, errors and glitches and render these in image outputs that become time-based media. Then, I act as a conduit for the results the AI produces, rendering the images generated into paintings (oil on canvas) that form a secondary loop in the collaborative process between artist and machine. In the anthropocene, such mergers between natural and artificial construction by humans and machines can serve as non-cynical, even utopian visions for sustainability.
In the installation, three paintings are shown alongside two videos: one featuring the generation of images created to explore the theme, and a second pursued in a massive collaboration with Rice University students as they contribute images through a campus-wide call for work that is intended to add new contributions of student voices throughout the lifespan of the exhibition.
The installation not only explores the juxtaposition of nature/culture or nature/human-made, but also temporality: influenced by my meditation practice, the work also explores different temporalities embodied within the metropolis. The student-contributed images stream by in a flurry, while my video moves more slowly. The images in the paintings are snapshots, moments of transformation and metamorphosis, frozen in time, mid process in a sequence. They are not results of a process, but rather, moments in the process.
Special Thanks to the Moody Center, the Rice Humanities funding body, and Lavender Juma, assistant and first Rice University student in the student video.
Peter Haff, " (2012). "Technology and human purpose: The problem of solids transport on the Earth's surface." Earth System Dynamics 3: 149–56.
Peter Haff, (2013) "Technology as a Geological Phenomenon: Implications for Human Well-Being", Geological Society, London, Special Publications, 395, pp. 301–309.
Exhibitions
Screening/Events: Experimental, Dance & Music Film Festival, 29 November 2022, Los Angeles and Toronto; Cannes World Film Festival Semi-Finalist, 27 October 2022; Rome International Movie Awards, 4 October 2022; Experimental Category, Swedish International Film Festival, Arvica Sweden, 10 October 2022; Official Selection, Best Shorts Competition, 20 September 2022; Experimental Indie Short Fest, Los Angeles International Film Festival, 21 October 2022; Berlin Indie Film Festival Best Experimental Film of the month award September 2022; Hong Kong World Film Festival Best Experimental Film, October 2022; Avalonia Festival of Short Films VII, Best Experimental Short, 5 November 2022 Jacksonville Florida; Vienna International Film Awards, Vienna, Austria, Honorable Mention, 11 December 2022; Animation Marathon 28-30 November 2022 (online); Honorable Mention of WSXA Amsterdam, International Awards 2022; Wildsoundfestival Canada, 17 January 2023 Climate Shorts.
"Urban Impressions" Moody Center for the Arts, Rice University, Houston TX, 16 September – 17 December 2022
Press